Description
Vulx Fusion
Brazier Plancha Table
Height and cooking mode reversible in 2 minutes
3 heights
Réversible in 2 minutes
In option
Coffee Table
Total height : 40cm
Standard Table
Total height : 80cm
High Table
Total height : 110cm
Video Conversion table basse HD1080
High table to Coffee table brazier plancha
2 heating modes
Reversible in 2 minutes
In option
Wood
Wood bowl heating the circular food grade stainless steel cooktop, of 6 mm thick.
With very little maintenance, all you need is to pick up the cold ashes in basin and your VULX will be ready for a new utilisation.
There is no limit to conviviality.
Gas
Burners of circular gas under the 6 mm thick food grade stainless steel cooktop.
Thermocouple in option, stopping the arrival of gas in case of flame extinction, for indoor.
It's allowing a precise management of the temperature with the the adjustment knobs accessible under the wooden tray.
The gas bottle is integrated in the leg of the table, as well as the grease collector, easily cleanable.
Video Conversion Bois Gaz HD1080
Reversible Gas to Wood
Accessories and options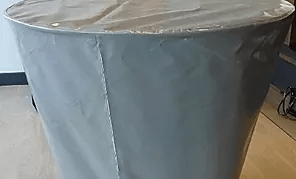 Integral waterproof protecting cover
Integral protect your Vulx
Waterproof
UV resist
With 2 zip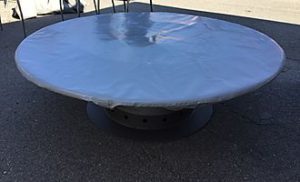 Wooden tray waterproof protecting cover
Protect food grade and wooden tray
Waterproof
UV resist
For Coffee table or Standard table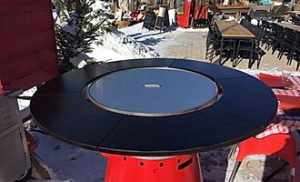 Stainless steel lid
For wood fireplace
With retractable handle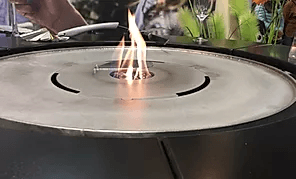 Ethanol burner Kit
For indoor and outdoor
No cooking
Plug-in cooktop center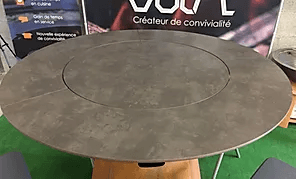 Compact tray
Attaches on the top of the food grade cooktop
Transform your Vulx in traditional table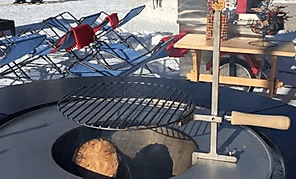 Central grade for wood fireplace
For wood fireplace
Various colours OR Corten steel for rust effect
Epoxy paint
Heat and streak resistant
Shiny, mat, lisse, sandblasted,…
OR
Corten steel for rust effect